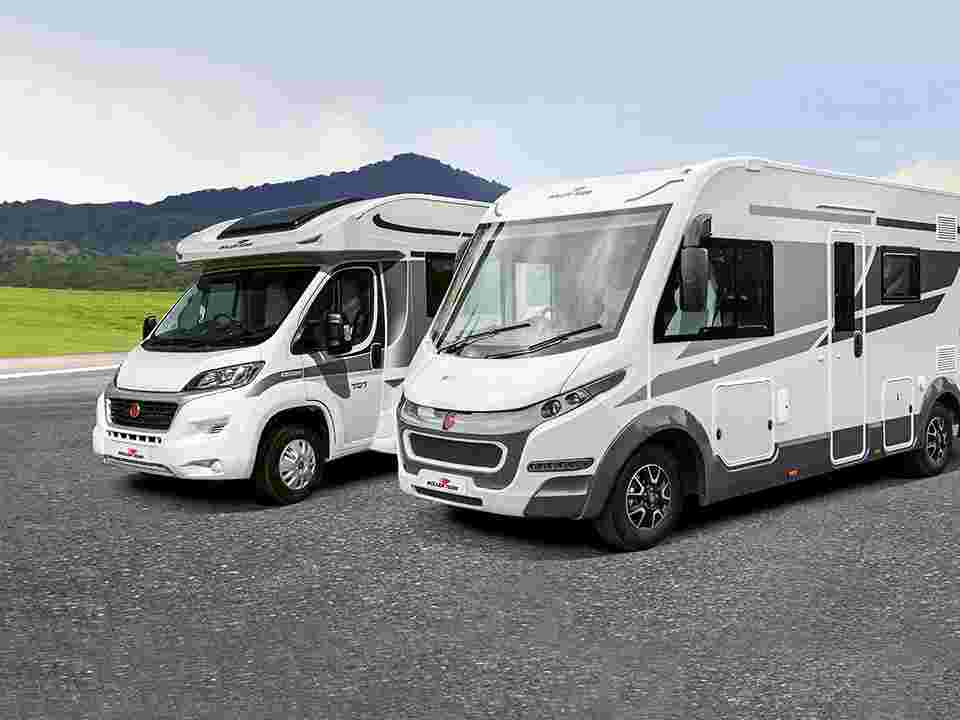 New Roller Team Motorhomes
Collection
New Roller Team A-Class motorhomes are returning to our forecourt again here at Continental Leisure for the 2023 season due to their immense popularity. Packed with innovative design and luxury style, the 2023 Roller Team collection is top-of-the-line quality, once again. For 2023 we welcome the Zefiro, Auto-roller, T-Line and the Pegaso to our range of new Roller Team Motorhomes. With a range of berths available, from four to six, the range has something for everyone, so no matter whether you're a family looking for an adventure, or a couple seeking a romantic getaway, we're sure to have a motorhome for you. With the new Roller Team A-Class motorhome line-up boasting modern external graphics and a sleek and intelligent look, you will be the envy of every campsite as you kick back in style. Explore the new collection of Roller Team motorhomes, including the Pegaso, T-Line, Zefiro and Auto-Roller, at Continental today and make sure to arrange a viewing with us soon.
Roller Team
T-Line Range
No matter how spontaneous the person, the new Roller Team T-Line motorhome range is there to match them. The T-Line from Roller Team is the perfect solution for those looking to get up and go at the drop of a hat for their next adventure. The T-Line has a vast range of models to browse, each sporting a unique layout offering you the flexibility to find a motorhome that matches your needs perfectly. Wherever you may find yourself on the road, these motorhomes' rich deluxe interior design is sure to make it feel like a 5-star hotel stay every time. With a rich Italian exclusive interior and a sleek and innovative exterior design, it is no wonder why the new Roller Team T-Line A-Class motorhome range is as popular as ever. Whether you're a weekend tourer or an avid explorer set to hit the road, savour the journey in the luxury of a T-Line motorhome. To arrange a viewing simply give us a call or fill out our online form today.
More info
Roller Team
Zefiro Range
The new and improved 2023 Roller Team Zefiro motorhome range is now ready to view at Continetnal Leisure and help take you on your future adventures in comfort. The new Roller Team Zefiro motorhome range comes with a sky roof installed as standard, which illuminates the cab with natural light during the day and provides a view of the stars at night. Sleeping between four and six people, the Zefiro is an ideal Roller Team motorhome for an adventurous family or a break with friends. Offering a wide variety of layouts allows you the flexibility and freedom to relax to a 5-star standard whilst on holiday in whichever style you choose. With refreshing looks, impressive specifications, and a first-class feel like no other, the Zefiro range lets you get the most out of any journey. Discover our current new Roller Team Zefiro motorhome models stock online and enquire about arranging your viewing at Continental Leisure.
More info
Roller Team
Pegaso Range
Escape into luxury with the 2023 new Roller Team Pegaso motorhome available here at Continental Leisure Vehicles. Compact and elegant, this desirable A-class motorhome is the epitome of luxury motorhoming. This A-class motorhome comes with a range of features designed to improve your quality of life and exhibit a top-of-the-line luxury feel. The latest 2023 model, features elegantly designed storage solutions to ensure you can enjoy your luxury lounge area without clutter. The Pegaso is innovatively designed with you in mind, to ensure you get the most out of your holiday. Discover thenew Roller Team Pegaso motohrome range at Continental today and make sure to arrange a viewing.
More info
Roller Team
Auto-Roller Range
For the 2023 season, the new Roller Team Auto-Roller motorhome range is back on our forecourt with new upgrades and enhancements which make it better than ever! Offering unparalleled spacious layouts of up to six berths, the Auto-Roller is a unique range from Roller Team designed with the larger family in mind. You rest assured that when you wake up in the new Roller Team Auto-Roller motorhome range, you'll be ready to tackle the day's adventure and enjoy a day of exploring. The Auto-Roller is renowned for giving a five-star experience no matter where you park up, and featuring a sky roof as standard, you'll never have to worry about a dim cabin. You can find our range of these stylish motorhomes ready to view right now at Continental Leisure. Why not arrange an appointment today?
More info
Here to help...
Got a Roller Team motorhome question?