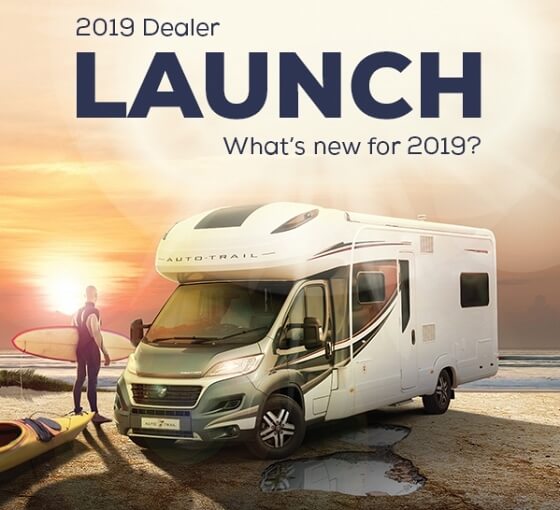 What's New For The 2019 Model Season
15.09.18
2019 Auto-Trail Motorhomes What's New?
Both the Tribute and Imala 2019 range will be fitted with the GT Pack as standard. This pack is worth £1,699 and includes: 4 gloss grey and polished 15" alloy wheels, exterior wind out awning, 100W Solar Panel, exclusive 'GT' badge, and a new external BBQ point outlet for coach-built models.

All Tracker, Apache and Frontier models include the latest Thetford fridge freezers, upgraded 6kw Combi boiler (if fitted), a high performance electric and gas cooker, new modern designer worktops, a smooth pull out bed mechanism with integrated support frame and a waste water tank pipe extension as standard.

Auto-Trail motorhomes and van conversions all feature new luxury upholstery schemes, incorporating automotive suede and including customised cab seat logos. There is an exclusive soft furnishing scheme for V-Line Sport, making this the stand out compact vehicle.

Popular options are the Media Pack (£1,149) and Media Pack + (£1,999). However, as the Frontier range now has Media Pack features as standard, the new cost option price for the Media Pack + on Frontier will only be £850.
As we get more information regarding the new 2019 Auto-Trail range of motorhomes we will post details on our website.