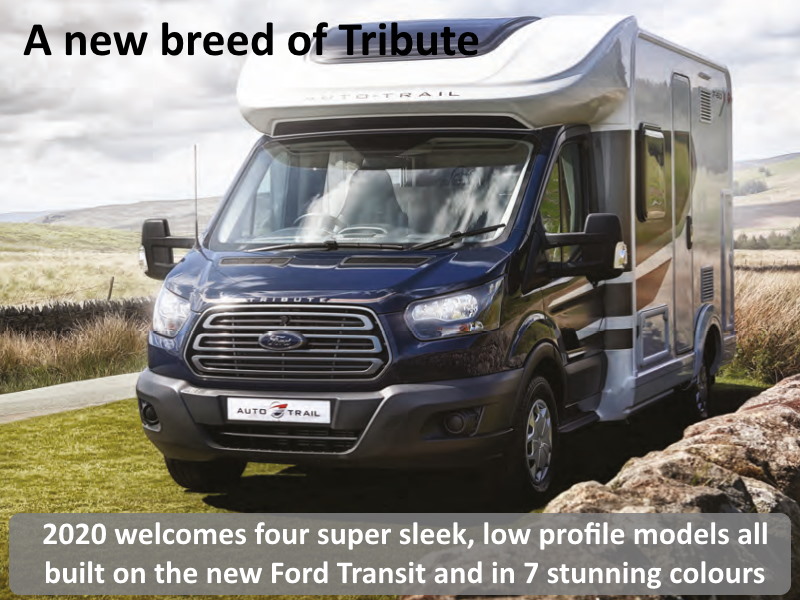 2020 Autotrail Tribute Motorhomes - 4 New Ford Models
11.10.19
2020 Auto-Trail Tribute Motorhome Range
Spacious and more versatile than ever before, the brand new Tribute coachbuilt range has transformed to perfectly suit the needs of a wide range of customers, from the activity-driven couple to a family stepping into the leisure industry for the
first time.
2020 welcomes four super sleek, low-profile models, all built on the brand new Ford Transit chassis and varying in length from a nimble 5.99m to a mighty 7.30m.
Features include a new Whale underfloor heating and hot water system that will save space and keep you cosy, a new Zenec LCD touch screen head unit, featuring 'motorhome specific' satellite navigation (LUX Pack), a huge panoramic roof skylight and modern Salinas Oak wood furniture.
Constructed on the wide axle camper low chassis, all models come with the option to add an electric drop-down double bed over the front dinette area, giving you the freedom to raise the bed out of the way when not in use. A half dinette seating is also available, allowing you to add a further two travelling seats to your vehicle.