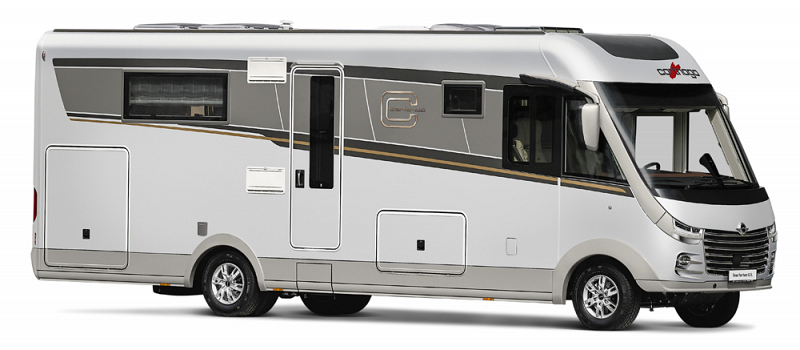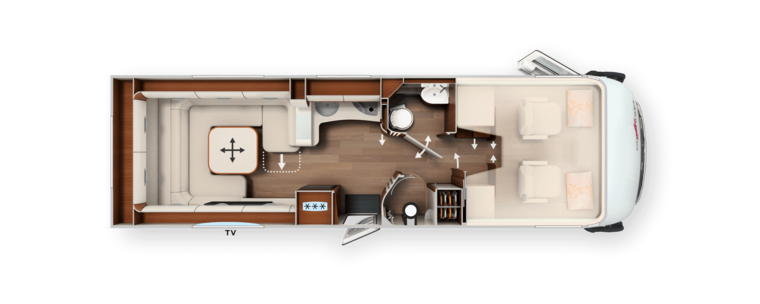 Carthago
Liner-For-Two 53 L
Before travelling to us to view this vehicle, we strongly recommend getting in contact to confirm availability.
About this vehicle
*** ORDER NOW FOR DELIVERY EARLY NEXT YEAR ***
Discover Ultimate Luxury and Unparalleled Design: Carthago Liner-For-Two 53L
Elevate Your Travels to Unimaginable Heights
Introducing you to the epitome of luxury travel – the Carthago Liner-For-Two 53L. Prepare to be captivated by a motorhome that redefines opulence, setting new standards in the world of A-Class vehicles. With the Carthago Premium DNA woven into every detail, this masterpiece is crafted for the discerning traveller who demands only the best.
A Masterpiece in Design and Functionality
Step into a realm of sophistication where only the extraordinary is expected. The Liner-For-Two boasts a unique 4-room concept that sets it apart from all others. Marvel at the round rear lounge seating area, a haven of comfort and elegance. With electrically extendible TV lounger, indulge in entertainment like never before.
An Unrivaled Living Experience
Round Rear Lounge Seating Area: Embrace the grandeur of an ample lounge seating area designed in a circular masterpiece. Revel in the luxury of panoramic views through three large windows and the stunning Heki III panoramic skylight above.
Elegantly Curved Kitchen
Delight in culinary excellence with a kitchen that defines luxury. The large curved worktop adorned with Corian anti-drip edge exudes opulence. The "Profi Gourmet" 3-ring hob with glass cover, raised kitchen work surface, and six large drawers combine aesthetics and functionality seamlessly.
Comfort Luxury Washroom
Indulge in ultimate relaxation within the spa-inspired rain shower with dark granite look. The design marvel of the shower room includes waterproof inserts, marble-designed shower walls, and an illuminated corner pillar.
Electrically Lowerable Single Beds
Experience restful nights on the electrically lowerable single beds with a Carawinx sleeping system. Medical-grade and point-elastic, this under springing system ensures your sleep is truly rejuvenating.
Exceptional Storage and Versatility
Expansive Scooter Garage: Carry your adventure gear effortlessly in the extra-large scooter garage. With an interior height of up to 145 cm, this garage is designed to accommodate your passion for exploration.
Thoughtful Wardrobe and Storage:
Organize your belongings with ease. From the living area wardrobe with Carthago coat hooks to the floor-to-ceiling wardrobe integrated into the changing room, your essentials find a stylish home.
A True Masterpiece on Wheels
Immerse yourself in luxury that transcends boundaries. The Carthago Liner-For-Two 53L is not merely a motorhome; it's a masterpiece. With meticulous attention to detail, every inch exudes sophistication and craftsmanship. The Siena bicolor world of style with summer chestnut furniture décor adds a touch of elegance, while the electric extendible television lounger and LED flat screen ensure unparalleled entertainment.
Elevate Your Travel Experience Today
The Carthago Liner-For-Two 53L invites you to embrace a world of ultimate luxury, innovation, and comfort. As you embark on journeys that redefine travel, let this motorhome be your haven. With every amenity and feature meticulously designed for your pleasure, there's no compromise on the elegance and refinement you deserve.
Elevate your travel today with the Carthago Liner-For-Two 53L – a testament to the art of perfection on wheels.
Super Package:
consisting of:
Steering wheel adjustable in height and inclination (IVECO)
Wiring for reversing camera (single lens)
XL habitation door "Safetyluxe" (width 63 cm) with safety double locking and "coming home".
Scooter garage upgrade with needle felt luggage nets
Radio preparation with roof antenna with DAB+, loudspeakers (4x), DVB-T2 reception
Angle and height adjustable seat surfaces (front and back) driver's cabin seats
Wiring for satellite system
Carthago 3-piece Nautic set of ship's instruments
Iveco dashboard trim in silver
Wiring for solar energy system (incl. cable set from electrical centre to socket on roof)
Manual air conditioning
ESP
Electric parking brake
USB socket in the sideboard above the lounge seating groupe
Alde heat exchanger (engine heat utilisation)
Central locking for driver's cab doors, habitation doors, exterior and scooter garage hatches
Carthago bestview bus mirror
Truma DuoControl CS
Multi-functional steering wheel and Leather steering wheel
SOG toilet ventilation via roof chimney (only with cassette toilet option)
Reversing camera system with single lens including 7" colour monitor
Thetford C 260 toilet with ceramic insert (standard with superior)
Crank-operated rear supports to prevent swaying in standing position
Driver's Assistance Package Iveco:
consisting of:
Side wind assistant incl. ESP
Distance assistant
High beam assistant
Tyre pressure sensor
Lane-keeper assistant
Rain and light sensor
Emergency Brake Assist/Active Brake Assist
Kitchen/Coffee package with coffee capsule machine (Dolce Gusto)
consisting of:
Capsule coffee maker with connecting kit incl. pull-out system
Inverter for 12 V to 230 V, 1,800 W with mains priority circuit
Office and TV room package:
consisting of:
24" LED flat screen for the TV pull-out system
230 V socket set and USB above sideboard at passenger side
Additional TV connection in driver's cabin (driver's side)
Height of TV bracket adjustable via wall profile rail in sleeping area / driver's cab
Extendable table surface from passenger side sideboard
Rotating pilot's seats for driver / passenger (available from 10/2018)

Summer Air Conditioning Package:
consisting of:
Truma Aventa Comfort roof-mounted air-conditioning system
Eletrical awning (230 V) aluminium, grey canvas, length 6,0 m
Entertainment Package:
consisting of:
Pioneer 9" media centre, incl. navigation, motorhome route guidance, DAB+
Luxury Habitation Door Package:
consisting of:
Electric door opening support from interior and exterior
Keyless access system via RFID-Chip
Additional LED lighting in door window for "coming & leaving home" function
Extra-quiet and electrical self-closing mechanism
Iveco Daily 6.7 t: Base vehicle comfort package: (package recommended!) - Wide-gauge front and rear axle - Adaptive air suspension and shock absorber system "Airpro" (full air suspension rear axle / adaptive bumper front axle) - Alloy wheels on front axle with 235/65 R 16C24 tyres
consisting of:
Adaptive pneumatic suspension and shock absorber system "Airpro" (full pneumatic suspension rear axle / adaptive bumper front axle)
6700 kg
Wider gauge on front axle
Alloy wheels front axle (Iveco)
Options:
Iveco 21 engine: 207 HP / 152 kW, Euro VI E, incl. 8-speed automatic torque converter transmission
Gearbox already included in engine variant
Differential lock on rear axle (Iveco)
40" LED flat screen incl. electric pull-out system
Radio including wiring in round lounge seating area, DAB+ with CD
silverline exterior colour scheme: front mask/ cabin completely in silver, (roof surfaces in white GRP to avoid undesirable heat effects)
Aluminium chequered floor for scooter garage
Second Heki III above round lounge seating area in rear
Sand Performance leather
Carthago
Electrically extendible television lounger
Relax head restraints (2x) for television locations in the round lounge seating area
Round lounge seating area can be converted into a sleeping berth
3rd & 4th seat at the rear wall in direction of travel incl. head restraints
Driver's cabin heated seats (driver/passenger seat)
Entry level electric
Extra socket: 230 V overhead storage cabinets above round lounge seating area in rear
Extra socket: 12 V overhead storage cabinets above round lounge seating area in rear
Carpet for living area
Carpet for driver cabin area
Underfloor heating system
Heated towel rail in chrome in washroom
Gas oven with grill function in kitchen base unit
Gasfilter
Exterior gas connection behind double floor exterior storage compartment at passenger side
CLICK HERE TO DOWNLOAD CARTHAGO BROCHURE
*** MORE PICTURES WILL FOLLOW WHEN MOTORHOMES ARRIVES INTO STOCK ***
Read more...
Floorplan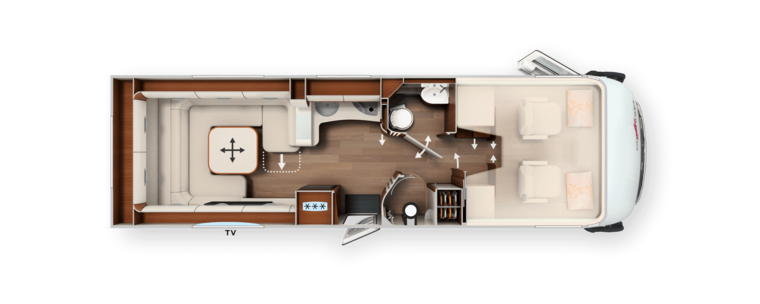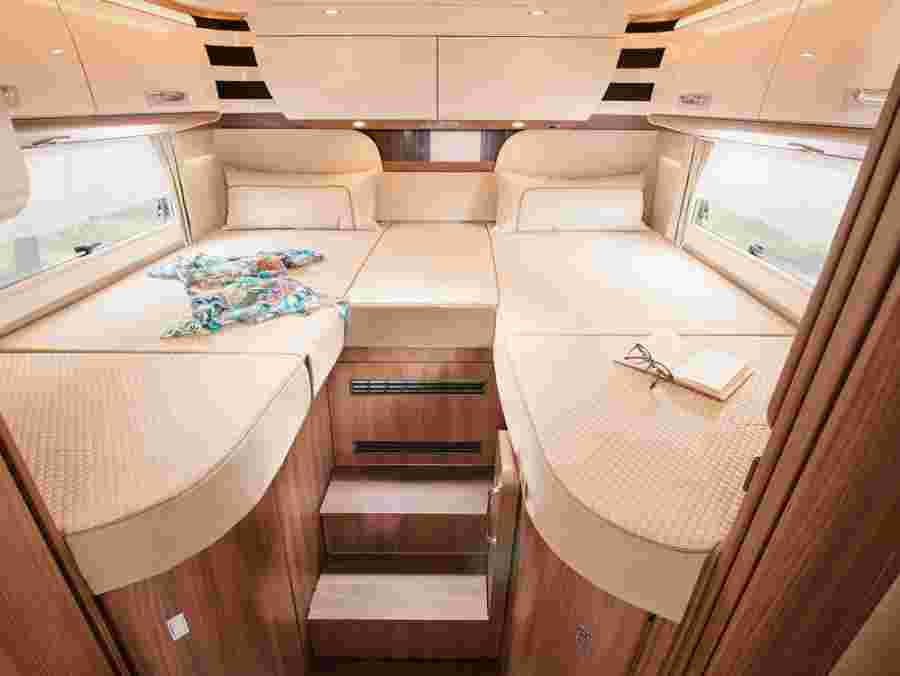 Carthago
Chic E-Line I 61 XL LE
Mileage
1
Berths
4
Length
8590 mm
Width
2270 mm
MTPLM
5500 kg
Unladen
4576 kg
Layout
Fixed Bed
Our price
£223,570
On the road