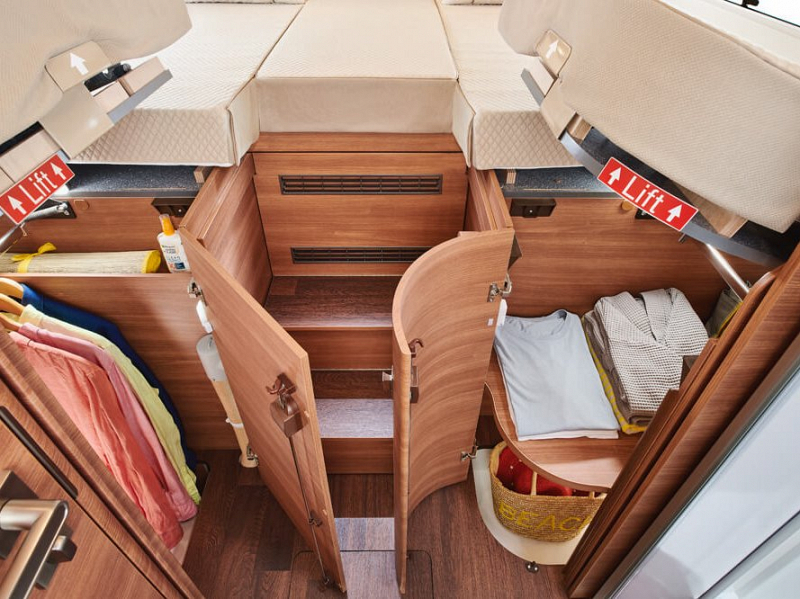 Carthago
Chic C-Line I 4.9 LE L
Before travelling to us to view this vehicle, we strongly recommend getting in contact to confirm availability.
About this vehicle
*** ORDER NOW FOR DELIVERY NEXT YEAR AND ORDER IN THE SPECIFICATION YOU WANT ***
Introducing the all-new 2024 Carthago Chic C-Line I 4.9 LE L motorhome, the epitome of elegance, comfort, and extravagance in the Carthago range. With its stunning design and top-of-the-line features, this motorhome represents the Carthago Premium DNA, where only the best is considered worthy.
Upgraded to the Mercedes Benz Sprinter 2000CC engine putting out 170BHP with 9G-Tronic automatic gear box upgrade, providing effortless gear shifting.
The DISTRONIC distance assistant ensures a safe driving distance from the vehicle ahead, automatically adjusting the speed to maintain a preset distance. The braking assistant provides additional support by assisting in emergency braking situations, reducing the risk of collisions.
To help you stay alert and focused during long journeys, the motorhome is equipped with an alertness assistant, which monitors your driving behavior and provides timely warnings if signs of fatigue are detected. This feature helps prevent accidents caused by driver drowsiness.
Step inside the motorhome and discover a comfortably equipped cockpit, designed to enhance your driving experience. The MBUX infotainment system (Mercedes-Benz User Experience) is fitted to this as an optional feature, providing intuitive controls and seamless connectivity including DAB radio and SAT Nav. Plus you can use the "Mercedes" voice control to ask questions or execute voice commands while driving. This means you can tune in to your favourite radio station or call up traffic jam information easily without taking your eyes off the road.
If the system is connected to your smartphone, you have numerous other options: Check the weather of your destination, listen to the latest news or have your favourite songs played. So you are not only technically modern with your Carthago, but also safe on the road. Of course, you also have the option of controlling the display via the touchscreen or with the multifunction steering wheel. Tip: By creating individual profiles, the system can call up your favourite settings directly.
A Sanctuary of Luxury and Comfort
L-Shaped Lounge Seating Area: Step into a world of luxury as you sink into the plush L-shaped lounge seating area. The wide side seat bench and rectangular living area table with chrome piping create an ambiance of sophistication that's perfect for relaxation or entertaining guests.
Swivel-Out Shoe Cabinet: Experience ultimate convenience with the integrated swivel-out shoe cabinet. Hold up to 4 pairs of shoes, neatly tucked away in the plinth of the seat bench.
Designer Kitchen: Discover a kitchen that's not just functional but a visual masterpiece. The raised kitchen worktop with designer bar cabinet serves as a room divider, creating a harmonious separation between spaces.The curved worktop and slide-out storage cabinet integrated into the round washroom wall bring functionality and aesthetics together seamlessly.
Unparalleled Comfort and Style
Luxury Washroom: The luxurious washroom offers a separate shower experience, inviting you to indulge in relaxation. The changing room is easily separable via the luxury washroom door, which boasts a 3-way function thanks to the washroom double door and solid wooden sliding doors.
Large Lengthways Single Beds: Retreat to the realm of comfort in the large lengthways single beds. The pull-out comfort access steps and wardrobes beneath, along with the outstanding interior height achieved by lowering into the double floor, ensure an unmatched sleeping experience.
Exclusive Lighting Concept: Immerse yourself in the enchanting LED light technology with dimming function. The main light, spotlight ensemble, and indirect ambient light can be individually controlled, creating an atmosphere that suits every mood.
Elevate Your Journey to the Carthago Liner Premium Class
The Carthago Chic C-Line I 4.9 LE L A-Class Motorhome isn't just a vehicle; it's an embodiment of elegance, comfort, and extravagance. With every feature meticulously designed to offer you the ultimate in luxury travel, it represents the pinnacle of what the Carthago Liner Premium class stands for.
Super package
consisting of:
SOG toilet ventilation via roof chimney (only with cassette toilet option)
Wiring for reversing camera (single lens)
XL habitation door "premium two 2.0" (width 63 cm) with double locking, window and integrated insect screen
Scooter garage upgrade with needle felt luggage nets
Instrument cluster with colour display
Radio preparation with roof antenna with DAB+, loudspeakers (4x), DVB-T2 reception
Angle and height adjustable seat surfaces (front and back) driver's cabin seats
Wiring for satellite system
Central locking for driver's cabin and main cabin doors, remote control with "coming home" function
Steering wheel with multifunctional buttons option (incl. leather gearshift lever with manual transmission)
Rain and light sensor
Wiring for solar energy system (incl. cable set from electrical centre to socket on roof)
Front axle with increased load bearing capability
Electric parking brake
THERMOTRONIC fully automatic air conditioning system
USB socket in the overhead storage cabinet above rear bed (in package included)
Carthago bestview bus mirror
92 litre fuel tank
Charge booster
Truma DuoControl CS
Designer bar cabinet with glass holder and glass set above kitchen
Reversing camera system with single lens including 7" colour monitor
Crank-operated rear supports to prevent swaying in standing position
Steering wheel with multifunctional buttons option (incl. leather gearshift lever lever with manual transmission)
Mercedes-Benz driving assistance package
consisting of:
Distance Assist
Tyre pressure sensor
Attention Assist
Emergency Brake Assist/Active Brake Assist
Kitchen/Coffee package with coffee capsule machine (Dolce Gusto)
consisting of:
Capsule coffee maker with connecting kit for coffee machine lif
Inverter for 12 V to 230 V, 1,800 W with mains priority circuit
Living area 32'' TV package
consisting of:
TV-pull out system 32" in side seat bench
32" LED flat screen incl. receiver for TFT pull-out system
TV Package sleeping area for models with lengthways single beds
consisting of:
24" LED flat screen TV in rear area
TV cabinet in sleeping area with TV pull-out system
Polar Package ALDE
consisting of:
Alde heat exchanger (engine heat utilisation)
Alde warm water heating, 230V/ Gas operation with booster in driver's cabin
Insulating glazing in side windows/door windows in drivers cabin
Insulating mat for exterior of front and side windows (Fiat)
Mercedes package

consisting of:
SURCHARGE MBUX 10.2" multimedia incl. navigation and DAB+
Options
170 HP engine version / 125 kW, Euro VI
9G-Tronic automatic gearbox incl. holding function
16-inch alloy wheels (black) with all-weather tyres (standard with superior)
Increased load from 4,200 kg to 4,500 kg
silverline exterior colour scheme: front mask/ cabin completely in silver, (roof surfaces in white GRP to avoid undesirable heat effects)
Insulating glazing in side windows / door windows in driver?s cabin
Aluminium chequered floor for scooter garage
Macchiato part leather 23 - Leather / fabric combination
Carthago
Driver's cabin heated seats (driver/passenger seat)
Entry step electric
Socket package with additional sockets (3 x 230 V, 2 x USB)
linea moderna 22
Carpet for living area
Carpet for driver cabin area
Drop-down bed with Carawinx under springing system instead of sprung slatted frame
Alde heat exchanger (engine heat utilisation)
Alde warm water heating, 230 V / gas operation with booster in driver's cabin
Gas oven with grill function in kitchen base unit
Exterior gas connection behind double floor exterior storage compartment at passenger side
Hot/cold exterior shower in scooter garage at driver side
Thetford C 260 toilet with ceramic insert (standard with superior)
CLICK HERE TO DOWNLOAD CARTHAGO BROCHURE
*** MORE PICTURES WILL FOLLOW WHEN MOTORHOMES ARRIVES INTO STOCK ***
Read more...
Floorplan

Essential specification
Layout Type
Fixed Single Beds
DUE SUMMER 2024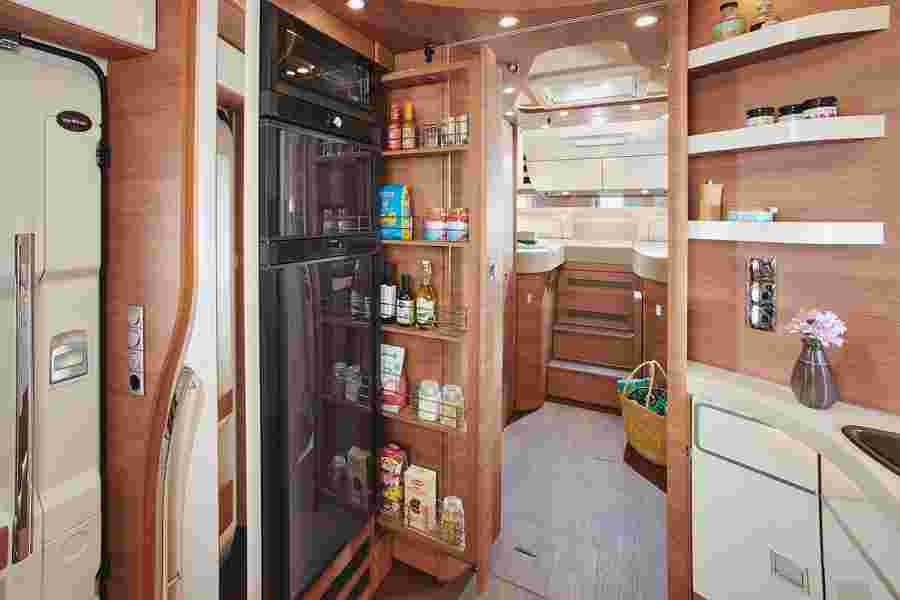 Carthago
Chic C-Line I 5.9 XL LE
Mileage
1
Berths
4
Length
8530 mm
Width
2270 mm
MTPLM
5500 kg
Unladen
4245 kg
Layout
Fixed Single Beds
Our price
£178,150
On the road