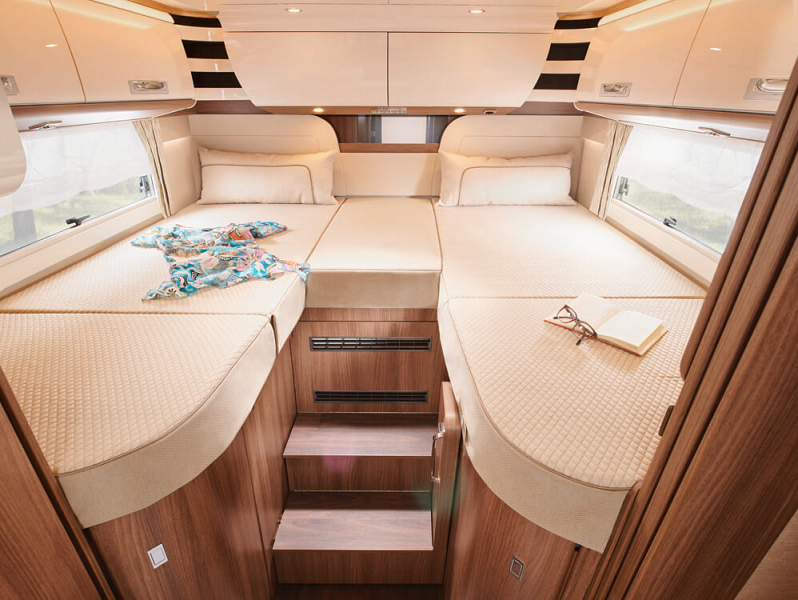 Carthago
Chic E-Line I 61 XL LE
Before travelling to us to view this vehicle, we strongly recommend getting in contact to confirm availability.
About this vehicle
*** ORDER FOR NEXT YEAR IN THE SPECIFICATION YOU WANT ***
Welcome to the Carthago Chic E-Line I 61 XL LE Motorhome, the epitome of luxury and independence in the Carthago Liner class.
Offering enhanced comfort, self-sufficiency, and independence, this motorhome is truly the jewel in the crown.
From the moment you lay eyes on this Chic E-Line motorhome, you'll be captivated by its pure elegance, both on the exterior and interior. The unique "emotional" furniture design creates a sense of sophistication, while the impressive living area headroom of 211 cm provides a spacious and open feel.
This self-sufficiency champion goes above and beyond to offer exclusivity and comfort like never before. The large comfort corner kitchen features a curved work surface, allowing for seamless meal preparation.
The XL washroom boasts a host of luxurious features, including an open washing area, a spacious round shower, a separate toilet room with a side window, a towel warmer, and a legroom extension. Additionally, a floor-to-ceiling wardrobe provides ample storage for your belongings. The changing room can be separated via solid wooden sliding doors and a solid wooden door, ensuring privacy and convenience.
The Carthago Chic E-Line also comes equipped with a range of safety features. The Mercedes-Benz Sprinter safety package includes airbags, a side wind assistant (single axle), hill descent control, hill holder, ABS, ASR, EBV, and ESP. The Carthago driver's cabin visibility concept ensures excellent visibility, and the Carthago full LED headlights, including LED daytime driving lights, provide enhanced safety on the road. You'll also find an electric pleated windscreen blind with individually programmable privacy and sun visor function.
Living comfort is paramount in the Chic E-Line. The "emotional" exclusive furniture design offers a choice of two worlds of style, creating a harmonious and inviting atmosphere. The two-level room concept, with its extra-high living area headroom of 211 cm, adds to the spaciousness and comfort. A large round seating area with a luxury living area table, a wide side seat bench, with a swivel-out shoe cabinet provide a perfect spot for relaxation and socializing.
The comfort corner kitchen features a pull-out kitchen work surface and a worktop extension, with electric central locking for the entire kitchen area, including the pull-out work surface. The kitchen area cuboards also automatically locks while driving, ensuring safety and convenience.
Storage space is abundant in the Chic E-Line. The double floor incorporates a huge heated storage compartment with a usable height of up to 70 cm. Exterior access is provided through several large hatches, and convenient internal access is available through the seat bench cover of the round seating area, the swing-up side seat bench, and the large living area floor hatch.
The motorhome also features a large central through-loading space with an interior height of 22 cm and an extra-low double floor storage compartment with a usable height of 46 cm. Loading through the XL habitation door via a large, self-supporting living area floor hatch is both effortless and convenient. Additionally, a scooter garage with an interior height of up to 132 cm* offers a load capacity of up to 450 kg.
The Chic E-Line ensures self-sufficiency and is equipped with essential features. It includes a 235-litre fresh water tank and a 185-litre waste water tank, providing ample water supply for your journey. The motorhome is powered by two 80 Ah gel batteries, which can be extended to three 80 Ah batteries for enhanced battery life.
Air conditioning and heating are optimized in the Chic E-Line. The Alde warm water heating system ensures your comfort during colder seasons, while the double floor design provides underfloor heating effects. The Carthago driver's cabin thermal concept further enhances the climate control system, ensuring a cozy and pleasant interior environment.
Coming on a Mercedes Benz Euro 6 2000CC engine putting 170 BHP with 9G-Tronic automatic gear box upgrade, providing effortless gear shifting.
The DISTRONIC distance assistant ensures a safe driving distance from the vehicle ahead, automatically adjusting the speed to maintain a preset distance. The braking assistant provides additional support by assisting in emergency braking situations, reducing the risk of collisions.
To help you stay alert and focused during long journeys, the motorhome is equipped with an alertness assistant, which monitors your driving behavior and provides timely warnings if signs of fatigue are detected. This feature helps prevent accidents caused by driver drowsiness.
Step inside the motorhome and discover a comfortably equipped cockpit, designed to enhance your driving experience. The MBUX infotainment system (Mercedes-Benz User Experience) is fitted to this as an optional feature, providing intuitive controls and seamless connectivity including DAB radio and SAT Nav. Plus you can use the "Mercedes" voice control to ask questions or execute voice commands while driving. This means you can tune in to your favourite radio station or call up traffic jam information easily without taking your eyes off the road.
If the system is connected to your smartphone, you have numerous other options: Check the weather of your destination, listen to the latest news or have your favourite songs played. So you are not only technically modern with your Carthago, but also safe on the road. Of course, you also have the option of controlling the display via the touchscreen or with the multifunction steering wheel. Tip: By creating individual profiles, the system can call up your favourite settings directly.
Super Package
consisting of:
Wiring for reversing camera (single lens)
XL habitation door "Safetyluxe" (width 63 cm) with safety double locking and "coming home"
Scooter garage upgrade with needle felt luggage nets
Instrument cluster with colour display
Radio preparation with roof antenna with DAB+, loudspeakers (4x), DVB-T2 reception
Angle and height adjustable seat surfaces (front and back) driver's cabin seats
Wiring for satellite system
Carthago 3-piece Nautic set of ship's instruments
Rain and light sensor
Steering wheel with multifunctional buttons option (incl. leather gearshift lever lever with manual transmission)
Wiring for solar energy system (incl. cable set from electrical centre to socket on roof)
Electrical parking brake
THERMOTRONIC fully automatic air conditioning system
USB socket in the overhead storage cabinet above rear bed (in package included)
Alde heat exchanger (engine heat utilisation)
Central locking for driver's cab doors, habitation doors, exterior and scooter garage hatches
Carthago bestview bus mirrors
9G-Tronic automatic gearbox incl. holding function
92 litre fuel tank
Truma DuoControl CS
Charge booster
Designer bar cabinet with glass holder and glass set above kitchen
Crank-operated rear supports to prevent swaying in standing position
Steering wheel with multifunctional buttons option (incl. leather gearshift lever lever with manual transmission
Mercedes-Benz driving assistance package
consisting of:
Distance Assist-Attention Assist-Emergency Brake Assist/Active Brake Assist
Kitchen - coffee package:
Consisting of:
Capsule coffee maker with connection set incl. capsule holder and cup set
Inverter for 12v to 230v, 1800w with mains priority circuit

TV Package sleeping area for models with lengthways single beds:
TV cabinet in sleeping area with special TV pull-out system
24" LED flat screen in rear
consisting of:
Carthago TV pull-out system for TV cabinet in rear
24" LED flat screen for TV cabinet in sleeping area or washroom rear wall
Summer air conditioning package:
consisting of:
Truma Aventa Comfort roof-mounted air conditioning system
Electrical awning (230v) aluminium, grey canvas, length 6.0 metres
Mercedes Head Unit
consisting of:
MBUX 10.2" multimedia incl. navigation and DAB+
Reversing Camera
​Consisting of:
Reversing camera with double lens instead of single lens
Luxury habitation door package
Consisting of:
Electric door opening support from interior and exterior
Keyless access system via RFID-chip
Additional LED lighting in door window for "coming & leaving home" function
Extra-quiet and electrical self-closing mechanism
Options
Consisting of:
​170HP engine version / 125 kW, Euro VI
16-inch alloy wheels Mercedes (black) with all-weather tyres (twin axle)
Increased load from 5,000 kg to 5,500 kg (double axle)
40" LED flat screen incl. electric pull-out system
Silverline exterior colour scheme: front mask/ cabin completely in silver, (roof surfaces in white GRP to avoid undesirable heat effects
Aluminium chequered floor for scooter garage
​Macchiato Performance leather
Carthago
Entry level electric
Socket package with additional sockets (3 x 230 V, 2 x USB)
Additional 12-V socket in box under seat of L-shaped seating group
Linea chiara world of style
Carpet for living area
Carpet for driver cabin area
Pull-out living area table
Lounge seating area can be converted into a sleeping area
Gas oven with grill function in kitchen base unit
Exterior gas connection behind double floor exterior storage compartment at passenger side
​Thetford toilet with pumping system and faeces tank
Make sure to order your new Carthago motorhome with the UK's premier new and used motorhome dealership. Established since 1985 and thousands of satisfied customers across the UK and beyond.
Want more re-assurance? then read our Google reviews of customers experiences with our company.
CLICK HERE FOR A COPY OF THE CARTHAGO BROCHURE
Still not convinced? Click here to watch a video on the Carthago construction
Read more...
Floorplan

PLACE YOUR ORDER TODAY

Carthago
Chic E-Line I 51QB DA
Mileage
1
Berths
4
Length
8070 mm
Width
2270 mm
MTPLM
5000 kg
Unladen
4262.50 kg
Layout
Fixed Bed
Our price
£209,950
On the road